When selecting the perfect hardware for your kitchen or bathroom, it is essential to consider the style of the room, the finish, the functionality, and the cost. Style should be the first factor, while the finish should be easy to use and durable. Finally, the hardware cost should be considered, as some may cost more, but they may last longer, saving money in the long run. These tips can help the process easier and ensure your cabinets look beautiful and function well for years.
Kitchen and bathroom hardware covers various hardware options, including cabinet knobs and pulls, faucets, showerheads, towel bars, and more. There are some practical tips on choosing the proper hardware for your specific needs, such as durability, ease of installation, and maintenance requirements.
The Do's and Don'ts of Choosing the Right Kitchen and Bathroom Hardware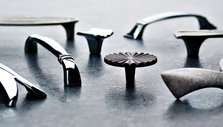 When selecting the perfect kitchen and bathroom hardware, it is essential to consider the home's style, the hardware's functionality, and the finish. These decisions will help you make the right choices and avoid costly mistakes.
Stick to two or three styles at most, and ensure they complement each other. Also, pay attention to quality; cheap kitchen and bathroom hardware may save money upfront, but they can cost more in the long run if they aren't durable enough to withstand daily use.
Finally, the finish will make a big difference in the overall look of the kitchen or bathroom, and don't forget about maintenance. Considering these factors, you can simplify selecting the perfect kitchen and bathroom hardware. This will enhance the aesthetic appeal of your kitchen and bathroom, and ensure that they function optimally for years to come.
Look for a Cabinet Expert's Opinion
Parr Cabinet and Design Center is your one-stop shop for all your hardware needs. Our team of experts can walk you through the wide range of cabinet options until finding the perfect one for your project. We would be happy to help you pick out the perfect style for any room in your home.