Believe it or not, the bathroom is where most of us spend much of that much-desired time. Often, people neglect this piece of the house, making it look somewhat unattached from the rest of the space.
In the past two years, we have all become hyper-aware of the hygiene and cleanliness of our homes. And as we are about to enter the third year of the worldwide pandemic, cleanliness continues to be one of our top priorities when designing and decorating new spaces.
Here are some of the most popular bathroom design trends that we will be following in the year 2022.
Large Wall Tiles
It was only a couple of years ago that mosaic tiles were all the rage. However, as bathroom design trends continue to evolve and change, large format wall tiles have become the new "in thing." These come in different colors, sizes, textures, and finishes and have been one of the biggest bathroom design trends in 2021 and will continue to be one of the top trends in 2022.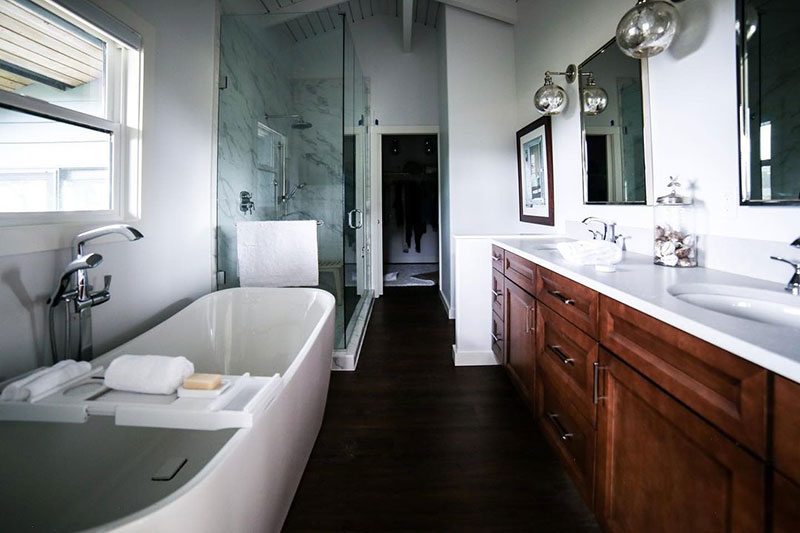 Trendy Placement of Bathroom Hardware
Bathroom hardware like medicine cabinets on backlit mirrors has become crucial for designing a new bathroom. They are highly functional, and the attractive lighting can add an oomph factor to your bathroom instantly. Usually, designers use these pieces of bathroom hardware to create a focal point in the space.
Space Saving Bathtubs
If anything, the pandemic has only increased everyone's need to want a cozy corner in their homes. According to a study, space-savvy bath and soaking tubs have become more prevalent in bathroom design trends than the usual decorative designs. People want to incorporate simplistic designs into their bathrooms.
The Use of Warm Tones
Whether it's wall paint, the color of the tubs, or even the fixtures in the bathroom, people have started to go for warm-toned colors as well as paint that's adorable.
You can browse our fabulous collection of cabinets to make your bathroom trendy. You can also have a look at our extensive hardware and accessories.