Are you looking to create a modern kitchen with the perfect balance between style and comfort? If so, you've come to the right place! This blog post will share five ways to make your modern kitchen feel warm and cozy. From incorporating natural materials and bringing in plants to adding comfortable seating and accent lighting, these tips will help you create a modern kitchen that still feels homey and inviting. So read on to discover how to transform your modern kitchen into an inviting space you can't wait to spend time in!
Use Natural Elements
When creating a modern kitchen that feels inviting and warm, natural materials should be your go-to. Natural materials like wood, stone, and metal can be used in various ways to give your kitchen a unique and homey feel. For example, incorporating wood into the cabinetry or island, adding stone countertops, or adding a metallic backsplash are all great ways to make your modern kitchen feel cozy and inviting. 
Adding plants is another great way to make your modern kitchen feel cozy. Not only are plants beautiful additions to a modern kitchen, but they also provide health benefits like better air quality. You can incorporate plants throughout your kitchen, such as potted plants, hanging plants, or even an indoor herb garden. 
Introduce Textures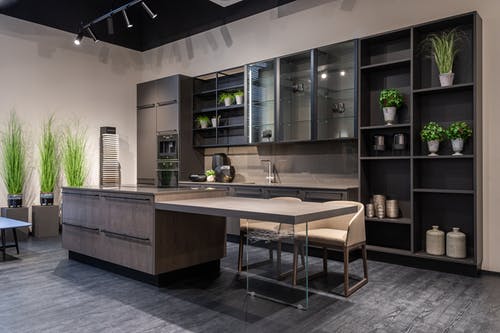 To make your modern kitchen feel inviting and comforting, you should incorporate some textural elements into your design. There are many ways to introduce texture into a modern kitchen. For example, wooden floors and countertops will add warmth and a sense of coziness, while stone backsplashes can create an interesting contrast against modern lines. You could also hang woven baskets on the walls or bring in rugs with soft textures for a touch of homey charm.
Incorporate Color
When it comes to modern kitchen design, there is no reason to sacrifice comfort and coziness for sleek and minimalistic style. By incorporating color, you can create a modern kitchen that still feels warm and inviting. Here are two tips to help you achieve this look:
Choose a bold accent wall – choose a single wall in your kitchen and use a vivid color or patterned wallpaper to make it the focal point of the room. This will draw the eye and create an energetic feel to your space.
Add colorful art – a few bright and bold pieces of art can make your kitchen feel cheerful and inviting.
Layer Lighting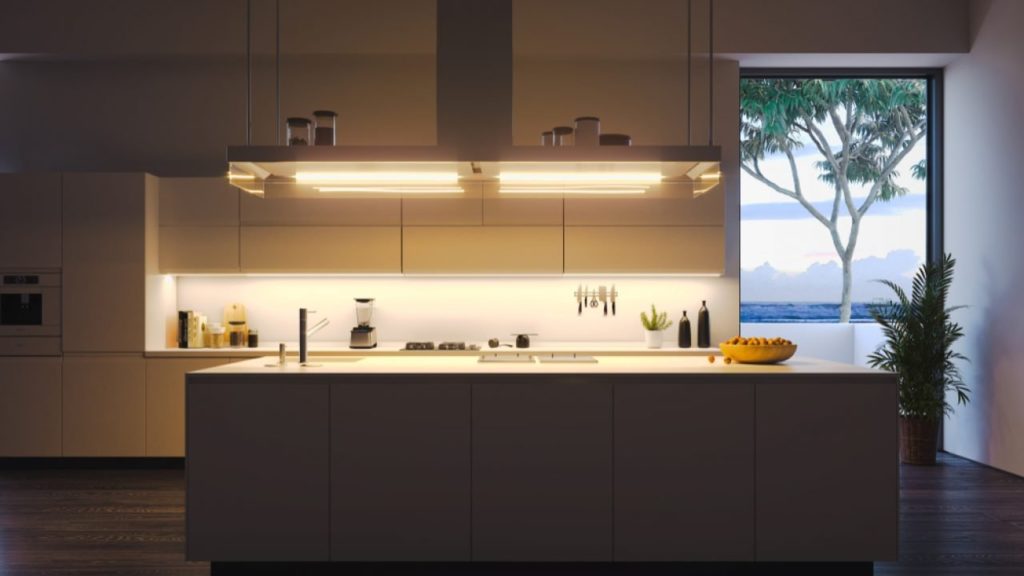 Lighting can play a major role in creating a warm and cozy atmosphere in your modern kitchen. To get the most out of your kitchen lighting, layer it with several different types of lights. This will allow you to create ambiance and adjust the brightness according to the time of day or the occasion.
One popular option is to incorporate recessed lighting into your kitchen design. You can also install pendant lights to provide additional lighting in specific areas. Pendant lights come in all shapes and sizes, so you can find one that fits your style and needs. Finally, don't forget about accent lighting! Accent lighting is a great way to add a soft, inviting glow to your kitchen. For example, place wall sconces near windows or mirrors to make them the room's focal point.
Accessorize
If you want to make your modern kitchen feel warm and cozy, accessorizing is key! Start with a neutral color palette – whites, grays, and blacks are all great options. Then, layer on some colorful accents to bring some warmth into the space. Think about adding plants, a bright backsplash, colorful cookware, or a patterned rug. You can also incorporate wood elements such as open shelving, wood floors, or wooden stools to add a natural element. Lastly, don't forget the small details! Candles, flowers, and decorative trinkets can help complete the look and make your kitchen a place that feels inviting and comfortable.
Work With Us
Are you looking to update or remodel your kitchen? At Parr, we make it easy to create the perfect design and bring your dream to life. Our team of experienced professionals are dedicated to making sure your project runs smoothly and looks exactly how you envisioned it.
Learn more about our process here and schedule your free consultation today!