When it comes to remodeling your kitchen or bathroom, one of the key elements that can transform the space is the choice of cabinets.
Transforming Your Old Bathroom Into an Elegant Master Bathroom
Upgrading your bathroom from outdated to elegant is an exciting process. When selecting bathroom cabinets, consider the overall aesthetic you want to achieve. Opt for materials like solid wood or high-quality veneers that exude luxury and sophistication. Choose a cabinet style that complements your desired design, such as sleek and modern, classic and traditional, or contemporary and minimalist. Adding decorative elements like crown molding or glass-front doors can enhance the elegance of your master bathroom.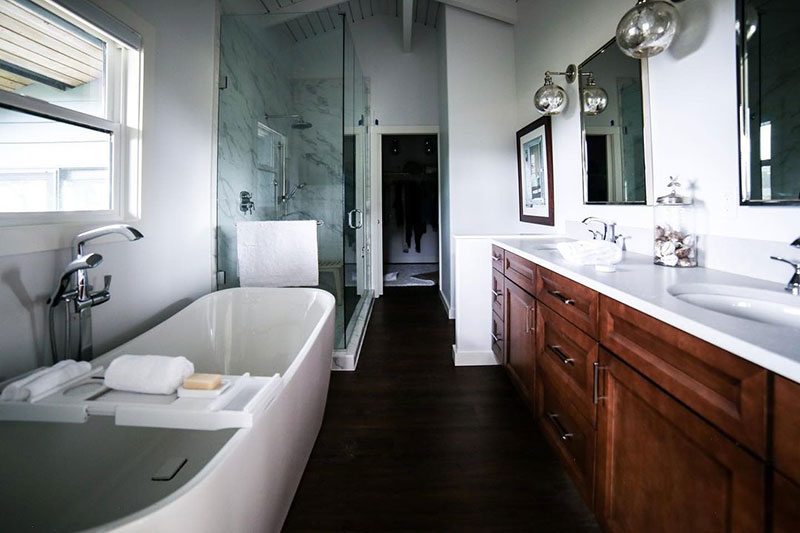 Making it Functional and Comfortable
In addition to elegance, functionality is crucial in a master bathroom. Look for cabinets that offer ample storage to keep your essentials organized and easily accessible. Consider your specific needs and lifestyle when deciding on cabinet features. Drawers with dividers and organizers can help keep your belongings tidy, while built-in medicine cabinets or mirrored cabinets offer convenience and save space. Incorporating features like soft-close doors and drawers adds a touch of luxury and ensures smooth and quiet operation.
Choosing the Right Materials
Bathroom cabinets need to withstand the moisture and humidity present in the bathroom environment. Opt for materials that are resistant to water damage, such as solid wood or moisture-resistant engineered wood. Additionally, consider finishes that are easy to clean and maintain, as bathrooms are prone to spills and splashes. Choose hardware and hinges made from materials like stainless steel or brushed nickel, as they are durable and resistant to corrosion.
Maximizing Space
If your master bathroom is limited in space, it's important to make the most of every square inch. Select cabinets that are tailored to your bathroom layout and utilize vertical space effectively. Wall-mounted cabinets or floating vanities can create a sense of openness and visually expand the room. Incorporate built-in storage solutions like tall cabinets or pull-out shelves to optimize storage capacity without sacrificing style.
Incorporating Lighting
Proper lighting is essential in a master bathroom. Consider cabinets with integrated lighting or install under-cabinet lighting to illuminate your countertop and enhance visibility. Well-placed lighting can improve functionality, create ambiance, and highlight the elegance of your bathroom cabinets.
Consider the overall design, materials, storage options, space optimization, and lighting when making your selection. With the right cabinet choices, your master bathroom will become a stunning retreat that combines style, comfort, and functionality. Don't know where to start? No problem! Contact PARR Design Center today!